Talent Online Profiles and Questionnaires Store About Us Why Use Leadership Connections and Sales Mastery®? Testimonials Newsletters, Articles, and Sales etips Complimentary ResourcesCalendar Contact UsRead our blogSales Seminars, Events, and WorkshopLinks and Additional Resources

Colorado Office:
14143 Denver West Parkway Ste 100
Golden, CO 80401

P: 303.462.1277
F: 303.274.9771
Training Location II
700 Kalamath St.,
Denver, CO 80204


Professional Consultative Sales Training
Sales Mastery® 'Lead the Pack' Sales Training
Sales training, sales prospecting, and sales management is a business priority for many organizations across the country, and especially in Denver and Colorado markets. Strong sales presentation and proposal skills are no longer closing sales in the information age. Communicating value no longer works. Creating value requires a broader set of selling skills, including greater trust, the ability to understand and think through the complexity of a prospects' business, and solve problems quickly. Business developers need fresh and effective ways to prospect, get referrals, access decision makers, stimulate interest, create value, and close sales. Today, how you sell is just as important as what you sell. Harvard Business Review reports those organizations that invested in training in 2003 out-performed the S & P 500 by 17 to 35 percent. Whether you have one salesperson or many, we have the sales strategy, sales training and sales coaching to create sales success.
Garry Duncan, President, Leadership Connections
Sales Training Workshops for Insurance & Financial Services

Sales Training Seminars for Industrial, Salespeople, Distributors & Manufacturers

Sales Meeting Ideas & Exercises for Sales Managers

Sales Training Workshops for IT, Technical Professionals, & Software Professionals

Sales Training for Contract Furniture & Commercial Interior Representatives, Dealers & Manufacturers
Standard off the shelf sales training programs can be rigid, dry, and unsuitable. Custom programs are expensive, unproven, and risky. Sales Mastery® uses proven components, principles, sales techniques, and sales strategies that Leadership Connections tailors to fit your needs. Our Successes include:
Engineering Services: $2.4 million contract attributed to Sales Mastery Training.
Insurance: 57% increase in deals closed attributed to Sales Mastery Training
Advertising company ranked one of the fastest growing and ranked number three in their market after Sales Mastery training up from number seven.
Sales Mastery® workshops are continually evolving to help you attain the strongest sales culture possible. Leadership Connections delivers sales and management seminars and workshops in measured increments allowing sales representatives to practice, apply, master, refine, and implement new selling skills and sales processes in the most effective way.
Better results are possible becasue Leadership Connections (LCI) applies individual stategic approach. That means we will actually work with individuals in the field. LCI will observe and coach phone callls, sales calls, prospect and customer interactions. Application is everything
Our guarantee for your success!

We are so confident that qualified participants enrolled in Sales Mastery® Omega, Beta, or Alpha training will experience improvement that Leadership Connections will insure your investment. Contact us for more information.

Harvard Business Review reports those organizations that invested in training in 2003 out-performed the S & P 500 by 17 to 35 percent. Whether you have one salesperson or many, we have the selling skills for sales success.

Reasons to use the Sales Mastery® 'Lead the Pack' Sales Training Series
Consultative Sales Training that Gets Sales Results
The internet is changing selling and sales training. The information age creates buyers who are more knowledgeable, demand more, and who are no longer willing to pay for the best sales presentation. Is it any wonder old selling approaches are less effective? It is easy for professional salespeople to ask a few probing questions and then launch into a sales presentation, thinking they are executing a consultative sales process. Leadership Connections knows the most credible data is the buyers' own data, opinion, and perception. Sales Mastery®, 'Lead the Pack Sales Training' teaches sellers how to help the buyer 'discover' why they should buy. Sales Mastery® leaders know how to lead the buyer seller interaction, inspiring buyers to buy, instead of pushing a sale.
Sales Mastery® differentiators include: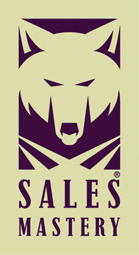 Discovery vs. Convincing
Collaboration vs. being sold
Mutual Agreements vs. Closing Techniques
Problem Solving vs. Closing
Listening vs. Talking
Conversations vs. Presentations
Collaborative vs. Adversarial
Trusted Advisor vs. Skeptical Buyer
Prospect's Timetable vs. Salesperson's Deadline
Creating Value vs. Justifying Expense
Available for Individuals or Groups with or without
Accountability Coaching
Sales Training Workshops for Intangibles: Selling the Invisible
Insurance, Financial Services, Information Technology, Software, Services, Non-Selling Professionals and Consultants

It is difficult for prospects to know or visualize exactly what they are buying.


Secondly, it is often extremely difficult to clarify the problem. Many business leaders know a problem exists, but cannot define it, because the issues are difficult to delineate. Without a clear understanding of the problem, the chance of a seller proposing a successful solution is minimal.


Third, the seller and provider of the service is often the same person, but selling and delivering the service require two completely different skill sets. The deliverer often needs a detail and task orientation, while seller's need a people and relationship orientation to maximize trust. Sales Mastery®, Lead the Pack Sales Training, provides the methods and tools to build authentic relationships and real trust quickly. Master the skills to accurately clarify and diagnose, and lead the buyer to a clear understanding of his situation and a clear vision of your solution. Shorten your sales cycle, stop chasing proposals that go nowhere, gain skills that put you into a trusted advisor seat, and achieve exceptional sales success.
Available for Individuals or Groups with or without Accountability Coaching

Sales Mastery® 12 'Selling the Invisible' list of modules


Sales Training for Dealers, Industrial Distributors, and Manufacturers
Salespeople in industrial and industrial distribution sales face a mix of sales challenges, especially providing value over price. Communicating value is losing effectiveness because of the impact of the internet and the information age. Increasing competition, price pressure, and market commoditization make keeping and growing existing accounts more important and more difficult, combined with pressure to balance account management with the need to prospect and bring in new accounts.
Sales Mastery®, 'Lead the Pack' sales training workshops and seminars accelerate your ability to create Trusted Advisor Relationships, creatively manage accounts in less time, up sell and cross sell, stop quote chasing, reduce price shopping, get decisions without pressure, and prospect effectively for new accounts.

Available for Individuals or Groups with or without Accountability Coaching

Sales Mastery® 12 'Industrial and Distributor Selling' list of modules

Make Sales Impact with your sales presentations! Bolster your-
Personal Impact ▪ Charisma ▪ Influence ▪ Confidence ▪ Message Retention ▪ Credibility
Sales presentation coach and LCI trainer, Gwen Resick-Rennich, trains the tools and techniques that make you stand out from the ordinary sales presenter. You will rise to a new level of sales skill in a remarkably short period. If you are serious about "stretching" yourself as a presenter and increasing sales, this training is a giant step in the right direction.
Gwen Resick-Rennich, Presentation Skills

Ask yourself…
In this workshop, learn ways to:

Captivate your listeners with impact
Present yourself with poise and confidence
Persuade people to act upon what you say
Effectively use voice and body language
Create positive personal sales presence
Deliver with memorable impact
Improve effectiveness with videotaping
Gwen's credits include over ten years of television as a CBS affiliate Anchor, Reporter, Co-Host, and Story Producer for Denver's P.M. Magazine. The result of her extensive media background combined with twenty years as a professional speaker – Gwen is a dynamo speech coach and a well-known Vistage International Speaker. Whatever the message, she delivers it with heart, humor, wit, and intellect.

Sales Training Departments, Corporate and In-house Sales Trainers: Train the Trainer
Does your organization continually train new hires or have a geographically dispersed sales team?
If you need or desire to conduct your own sales training, LCI can license the Sales Mastery® process to enable delivery by your own internal sales learning officer. Sales Mastery® is a proven system for selling that is reproducible. LCI will work with your sales training team to tailor modules and ensure the concepts are applicable and impactful with measurable results upon completion.
A Sales Mastery® sales training license agreement may be an option for you if…
You already have an internal sales training team or trainer
You hire a significant number of new people regularly
You believe in reinforcement, incremental growth and change
You need fresh sales ideas and a fresh sales approach
You don't have resources to develop your own material
Your current emphasis internally is on product knowledge
Your company is growing rapidly and you want to bring new hires up to speed quickly
We will continue to support your internal training team after they are certified
With a license agreement, you can train whenever and wherever you need to, and LCI will continue to support you after certification. To learn more about how to license Sales Mastery® and access the expertise of our front line trainers, contact us at info@leadershipconnections or call 303 462 1277
Sales Training Logistics and Delivery Options
Local in the Denver Colorado Areas:

Individuals:

Groups:

At LCI Training Area - Times to be Coordinated with Individual Groups/Company

At your location or a location of your choice

Onsite in Denver or other Geographical locations:

Groups:

Flexible logistics to fit your needs depending on travel and demographics

Popular Formats:

Three days

Six half-days

Twelve 2-hour sessions

Two days

Four half-days

Eight 2-hour sessions

One day

Two half-days

Four 2-hour sessions

One half-day
Sales Training Reinforcement and Follow-up Sessions
Sales seminars, sales workshops, and sales coaching sessions produce the best sales results with reinforcement to provide an ongoing learning experience to inspire and implement best practices in your business. LCI's sales training methodology facilitates openness and solutions to real world questions and daily sales challenges, and maximizes sales growth and the sales training experience by offering long-term reinforcement options to sales training.
Individuals

Sales Mastery®:

Bi-monthly training and reinforcement sessions and weekly Sales Mastery® 12 sessions for one full year

Sales Mastery®
Coaching:

Four months renewable weekly coaching sessions

Sales Mastery® Advanced
Weekly advanced Sales Mastery® training on-site modules

Corporate
Sales Mastery® 'Mini' Modules

By Company:

Thirty-six weekly mini-modules (30-45 minutes) designed to reinforce Sales Mastery® modules delivery is by a designated company sales manager (or other) with pre- and post-briefings and coaching available from LCI. Each module includes an awareness exercise, mini lecture (discussion) and application exercise.

By Leadership
Connections:

Periodic workshops, webinars, phone coaching, or electronic mini-modules are available at predetermined intervals logistically favorable for your team and organization.
back to top
Sales Mastery® Advanced On-Site Modules
Beliefs, Attitudes and Courage
Action, Goals and Plans for Success
Trust and Communication
Scouting Calls and Prospecting
Sales Rescue
Mutual Agreement and The Power of Choice
Problems, Pain and Buyer Motivations
Denial and Skepticism and Sales Takeaway
Seeking to Understand
Investment, Pricing, and Budgets
Establishing Authority and Decision Criteria
Proposals and Presentations for Proof
Skills and Drills Each Sales Mastery®12 Session
Advanced Modules for Each Sales Mastery® 12 Session
Major Account Selling
Managing the Complex Sale and Multiple Decision Makers
Personal Adversity
Developing Unrecognized Need
Advanced Interviewing Skills
Account Management
Developing Referral Partners
Advanced Networking
Advanced Telephone Prospecting
NLP
Creating Value vs. Communicating Value
Qualifying Investment and Budget Strategies