Talent Online Profiles and Questionnaires Store About Us Why Use Leadership Connections and Sales Mastery®? Testimonials Newsletters, Articles, and Sales etips Complimentary ResourcesCalendar Contact UsRead our blogSales Seminars, Events, and WorkshopLinks and Additional Resources

Colorado Office:
14143 Denver West Parkway Ste 100
Golden, CO 80401

P: 303.462.1277
F: 303.274.9771
Training Location II
700 Kalamath St.,
Denver, CO 80204


Sales Prospecting and Business Development Sales Mastery®
'Lead the Pack' Prospecting Skills

Prospecting, cold calling, and asking for referrals is the selling skill average producers avoid. Prospecting and lead generation activities are necessary skills that produce results. Prospecting activities should not be so painful that sellers try to avoid them on
a daily basis. Call reluctance is real. The fear of embarrassment, the fear of rejection, the fear of picking up the phone or initiating contact is all too common, and all too often - easily fixed!

Learn prospecting strategies and cold calling techniques that actually work and produce appointments. Learn business development skills that are fun, easy to do and that lower defenses while honoring and respecting the prospect. Gain the courage and confidence to be a master prospector. Learn how to ask for referrals, how to receive referrals, and how to initiate calls to new prospects.

Sales prospecting, business development, referrals, networking, cold calling, and sales lead generation does not have to be painful. Learn how to get the right mind set, what exactly to say and how to say it. Decision makers do not mind calls from vendors who can help them. They dislike vendors who waste their time and do not know how to make a call efficiently or effectively. Gain the courage and the confidence in this essential sales skill.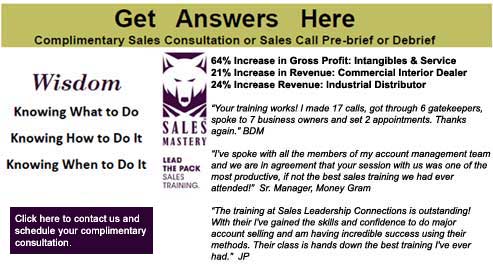 Prospecting Using the Phone, Scouting Calls that are:
User-friendly | Authentic & Real World | Results Producing for B to B Sellers
Measurable Benefits of this training at Leadership Connections in Denver, Colorado:
Get to decision makers ▪ Gain a warmer audience ▪ Eliminate rejection ▪ Lower defenses
Get more appointments ▪ Successfully work voicemail ▪ How to leave a message
Reduce conflict ▪ How to leave a message ▪ When to leave a message ▪ Build instant
rapport ▪ Create interest & curiosity ▪ Eliminate top objections ▪ Engage others ▪
Get to decision makers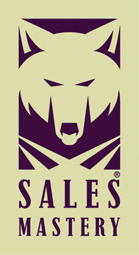 Training Content:
Seven gates of the business-to-business call
How to engage others quickly and effectively
How to get through to decision makers
How to gain permission to talk
How to work with live gatekeepers
How to work with electronic gatekeepers
No-No's that doom the call in seconds
How to qualify in minutes
How to reduce rejection
How to avoid personalizing rejection call
Referrals: Professionally Targeting Referrals
Sales winners know the value of asking for referrals and developing referral sources. A long time adage says, "Those who are truly successful never achieve it alone." That is especially true in selling. Top sellers do not always do more things, but they do more of the right things. Consistently working and asking for referrals is one of those things. Top sellers know how to enlist and empower the help of others. Just as selling in a complex sale is not just about closing, getting referrals is not just about asking. The first paradigm shift to make is that generating high quality, consistent referrals is a process, not an event. It is about strategy, setting goals, and specific referral plans to meet your income goals with an effective referral process.
How many of your business problems would vanish if you had more qualified referrals?

Ask yourself:
Are you as comfortable as you would like asking for referrals?
Do you give extra service hoping for referrals that often do not materialize?
Are you getting the number of referrals you want and need?
Can you coach others how to feel comfortable giving referrals?
Do others give you referrals that are not your ideal prospect?
Do you know how to protect relationships when asking for referrals?
Contact us to find out How much a referral is worth to you!

Seasoned business developers know the fastest way to grow business is through actively working a referral process. This program trains you how to generate more consistent, high quality, more qualified referrals. Reports indicate that it takes between five to ten times longer locating, meeting, and selling customers than when you have a referrer helping you. Avoid the rejection you have experienced with Cold Calls.
Learn:
How to develop referral partners
How to develop client referrals
How to protect relationships
How to remove your own and the referrer's fears
Get better referrals more consistently
Need Leads? The Master of Market Intelligence for Database Marketing!
Cold Call King
Not sure who to contact?
Not enough time to build a prospect list?
Wrong numbers and names?
Improve your sales production and effectiveness!
Too often sales people sort through a maze of names, organizations, and call lists, losing valuable time identifying those prospects in their universe that are in the buying window today.
Leadership Connections', specializing in business-to-business sales process, sales management, sales training, and sales consulting recommends The Cold Call King, Inc, a business-to-business direct marketing consulting firm that specializes in sales lead and sales pipeline development.
The Cold Call King executes tele-prospecting, target marketing, prospect profiling, database enhancement, prospect qualifying, prospect retention, tele-training workshops and seminars, and sales lead pre-discovery cold calls.
These tele-prospecting calls identify potential prospects and qualify the appropriate executive decision maker specific to your offerings. Exceptional outcomes occur because of personal engagement with individuals, rather than ineffective voice mail, email and other less personal approaches.
Please contact The Cold Call King for a "Pre-Discovery Cold Call Demonstration" and you will hear first hand, the effectiveness of identifying sales opportunities via the telephone. You will learn how to collect pre-sales call market intelligence. These outbound cold calls identify potential sales opportunities and the appropriate executive decision maker, enabling your sales team to spend energy and resources on higher quality leads.
Contact Sam Dobbins, The Cold Call King at 303.954.8553 or CLICK HERE
www.coldcallking.com
Leadership
Connections
Leading you to exceptional sales success,
Connecting you with top line results