Talent Online Profiles and Questionnaires Store About Us Why Use Leadership Connections and Sales Mastery®? Testimonials Newsletters, Articles, and Sales etips Complimentary ResourcesCalendar Contact UsRead our blogSales Seminars, Events, and WorkshopLinks and Additional Resources

Colorado Office:
14143 Denver West Parkway Ste 100
Golden, CO 80401

P: 303.462.1277
F: 303.274.9771
Training Location II
700 Kalamath St.,
Denver, CO 80204


Sales Strategy, Sales Training and Sales Coaching for Today's Buyer

Sales strategy and sales training is moving from strictly features and benefits to a consultative sales approach. Consultative sales training does not mean asking a few questions and then presenting. Strong presentation and proposal skills are no longer closing sales. Sales success requires creating value instead of communicating value. Sales people now must be adept in problem solving, conceptual thinking, and know how to get referrals, open doors, engage decision makers, and stimulate interest quickly. Consultative selling works on the principle of "discovery questioning" because the prospect's own data is always the most credible. The more a seller can move the prospect to their own conclusion that they need the offering, the higher the sales close rate.
Economic pressure has encouraged some to consider webinars and on line training to cut costs. While these are effective tools for reinforcement and the simple transfer of information, they are disappointing in the development of skill training. If participants cannot say the words in a classroom, cannot role play real situations, cannot verbalize their thoughts, they are unlikely to transfer information training to application. Think of learning to play golf out of a book. You must actually get out and practice hitting the ball. That is true in sales training also. You must fail to learn. You must practice! That is why our trainings are ongoing and incremental. You cannot learn what we know from dozens of years selling and training.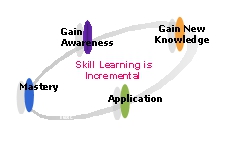 Leadership Connections Inc. (LCI) uses the adult learning model. Every workshop is interactive. The process of adult learning moves from awareness (I don't know what I don't know), to gaining new information (I now know what I didn't know), to application and then finally to skill mastery, meaning the ability to use concepts and skills automatically without great conscious effort.
Parts of the Sales Mastery® 'Lead the Pack' Sales Training also uses components from the counseling profession. For example:
| Counselors do this: | Selling today requires: |
| --- | --- |
| Get patients to talk about difficult topics | Sellers must be able to uncover hidden and difficult needs and situations |
| Counselors help patients take ownership of their problems | Sellers must facilitate ownership of the real problems |
| Help patients see and understand the consequence of their behaviors | Sellers help prospects realize the impact of their situation |
| Counselors guide patients to make their own decision | Sellers must facilitate a decision to take action or end the process |
"Wolves taught Native Americans about value of extended families, about protectiveness, and about fidelity to the tribe. They taught how social systems in a tribe function smoothly, and with the best interest of everyone in mind. Like the pack leader, managers must build the success of the team based on the strengths of the individual."