Sales Articles written by Garry Duncan
Newsletters | Etips | Articles

An Accountability Partner Can Increase Sales

Denver Business Journal January 2013

Write down the top two or three excuses you use most often when you miss a goal, deadline, task, or other commitment. If you hear yourself saying things like, "I didn't have enough time," or "I have been too busy to get to it," or some variation you're not alone. Everyone agrees that by talking to the right people, in the right frequency, and doing the right things is the formula for sales success. So why don't we do enough of the right things?

Closing is a Process, Not an Event

Denver Business Journal November 2012

Popular opinion maintains the most important skill in selling is the ability to close. Owners and sales managers validate that strong closers usually sell more than weak closers. Sellers who are uncomfortable closing may rationalize that educating the prospect will motivate them to buy. They reason that if the prospect understands the product or service completely, they will realize why their solution is best. Over presenting information can be effective with some analytical buying styles; however, this approach fails more than it succeeds. Excess information tends to confuse buyers and prolongs the cycle generating stalls and requests to 'think it over.' Think of closing as simply helping potential clients make a decision, even if the answer is 'no'. Incorporate these suggestions to help you close more comfortably and effectively:

Low Performers Impact Everyone

Denver Business Journal September 2012

Many sales teams have members performing below expected standards, who have mediocre skills, and are considered 'on the bubble' regarding continued employment. The question is whether to ignore the problem or to invest time and resources to correct the unacceptable results. Ignoring poor performance creates a silent, but far more costly and serious, problem. That problem is lower morale and productivity of the remaining team members.

Denver Business Journal DBJ July 2012

If you ask any war veteran about the word 'complacency', chances are good you will emphatically hear the well-known adage that complacency kills. Likewise, seasoned sellers know that complacency in selling kills deals and produces unsuccessful years. Complacency in professional sales has many familiar faces. Here are a few that you may recognize with suggestions to combat the malady.

Three Costly Sales Management Mistakes

Denver Business Journal May 2012


Owners who despise the idea of selling make three common mistakes. They are hiring the wrong salesperson, relying on sales results without giving precise direction, and hiring a sales manager too soon. Human resource articles consistently report the wrong hire costs three to five times the annual salary.
Jump-starting a new hire with a specific plan produces more results regardless of years of experience. Finally, managing the sales manager is just as important and time consuming as managing salespeople directly in many cases.

What Every Entrepreneur and Owner Should Know About Selling

Denver Business Journal, March 2012

Denver The conundrum many business owners and consultants experience trying to grow their business is discovering that expertise about a product or service is not enough to generate revenue. Regardless of the quality or usefulness of any offering, there is the dreadful fact that products, and especially services, rarely sell themselves. No one thinks of owning a business as creating a sales job, but of the many hats an owner must wear, one of the most important is that of rainmaker, revenue czar or money magnet…better known as salesperson. More...

Three Strategies to 'Get from Here to There' in 2012

Denver Business Journal, January 2012


Marshall Goldsmith's book, 'What Got You Here Won't Get You There' implies continual change is essential to grow your business and move forward. Yet, watching a Sunday afternoon of football leads one to think that growth and success is more about fundamentals and executing the basics well. Although the two perspectives sound mutually exclusive, implementing an R-R-R sales strategy will integrate strong fundamentals with personal change and development to get your sales from 'here to there!'

Elevate Your Sales Presentation to the Next Level
Denver Business Journal September 2011

Have you ever blown a sales presentation? Most sales professionals have at one time or another and it may not be possible to bulletproof every one. Here are some points to put on your checklist before attempting to persuade that next sales prospect. More...

Non-Selling Professionals Can Conquer Selling Reluctance
Denver Business Journal May 2011

Do you live to sell, or sell to live? Professional service providers frequently find selling a necessary evil to survive. If there are more dreadful parts in your day than enjoyable ones, perhaps you are missing some key factors that are essential in developing your passion about selling. Tom Brokaw said, "It is during adversity when one can really make a big difference. It's easy to make a buck. It's a lot tougher to make a difference." More...

The High Cost of Making Wrong Assumptions
Denver Business Journal, March 2011
Assumptions are judgments we hold as true without evidence or validation. Making incorrect assumptions in sales is costly. In the best case scenario, recovering from a wrong assumption may only require an investment of corrective effort, time and resources.More...

Master the Overlooked Skill of Asking For Referrals
Denver Business Journal, January 2011
"I am really good when I get in front of a prospect. The problem is getting in front of them." How many times have you heard that one or said it yourself? It's a frequent mantra of salespeople… More...

Getting Past Buyers' Indecision and Their Inability to Commit
Denver Business Journal, November 2010
"Refusing to commit has never been easier, and it says a lot about us," Elizabeth Bernstein wrote in a recent Wall Street Journal Article… More...

Understanding the Money Talk Can Help Close Sales
Denver Business Journal, September 2010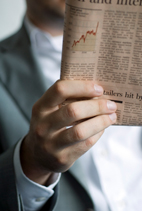 Talking about money is one of our culture's lingering taboos, and it makes the job of the professional salesperson more difficult. More...
Deal with Common Objections Early in the Process
Denver Business Journal, July 2010
You're lucky if buyers clearly voice objections, making it easier to respond. By far, the most difficult buyers are those who cloak their objections and fears under a shroud of silence. Their objections are unspoken and therefore never resolved. More...
Prevent losing sales to buyers choosing 'nothing'
Denver Business Journal, May 2010
Of the many challenges sellers have faced in the last 18 months, losing deals to 'nothing' is topping the list. Instead of losing to a competitor, sellers are faced with buyers who choose to do nothing. More...
Do Your Homework Before Sending Out a Proposal
Denver Business Journal, March 2010
A mentor advised, "One common way prospects defer salespeople is by asking for a business card, and then promising to call." Every seller has heard that comment. Request for proposals (RFPs) are analogous. Potential customers ask for proposals for a variety of reasons. More...
Selling Lessons from 2009 That Can Help You in 2010
Denver Business Journal, January 2010
There are significant lessons for salespeople and sales managers provided by 2009's challenges. For many in sales, this is their first major economic recession. Their opportunities decreased and closing percentages dropped as cautious buyers cut spending and budgets. Mental toughness and resilience, always important in selling, were more vital than ever in 2009 and remain so in 2010. More...
Sales World Packed with Stereotypes
Denver Business Journal, November 2009
Albert Einstein wrote, "Reality is merely an illusion, albeit a very persistent one." Interviews and discussions with dozens of business-to-business buyers and sellers confirm gender perceptions are alive and well in the selling profession. More...
How to Deepen Relationships with Your Customers
Denver Business Journal, September 2009
"Life is relationships; the rest is just details," author Gary Smalley said. Still, business relationships can be difficult to develop, maintain and grow. Frustration can mount when others build a relationship with a buyer that shuns your attempts, and fear and doubt grip the seller who loses an account despite having a "great relationship." Consider these steps to help illuminate the complexity of selling relationships, and to assess your own.
More...
How Sellers Can Develop Resilience in Hard Times
Denver Business Journal, July 2009
Garden enthusiasts talk about a plant's hardiness and ability to withstand cold, disease and stress. Sellers likewise need hardiness to withstand the cold should of current buyers, the disease of discouragement and the stress of increased sales pressure.
More...
What to do When Buying Decisions Are Put on Hold
Denver Business Journal, May 2009
Cries from the field about delayed purchasing decisions are increasing. The challenge is determining if the delay is a disguised objection, an unresolved concern, an excuse or real. Most importantly, how can you get to the truth, and move the sale forward? More...
Recessionary Times Mean It's Time to ReThink Selling Points
Denver Business Journal, March 2009
During recessions and times such as these, defining value becomes more muddled and difficult than ever. The hard value of your services and products doesn't change, but buyers might have a different perception of value. More..
Let Your Fear About Sales During Recession Work For You
Denver Business Journal, January 2009
Anxiety and fear have driven many buyers into hibernation. But that's only a temporary fix if businesses are to survive and grow in these unsettling times. More..
Make Attitude, Action and 'A' Game Your Guidelines
Denver Business Journal, November 2008
Recent economic events have weakened business confidence and reduced business spending. Economists joke that a recession is when your neighbor loses their job, and a depression is when you lose your job. Many economists say a recession is a decline in gross national product for two or more consecutive quarters, and a depression is a decline of greater than 10 percent. Even with a 10 percent decline, 90 percent of your customers and prospects most likely are still buying. More...
Keep Up Your Confidence Level During Slower Times
Denver Business Journal, September 2008
Sluggish markets and slow summer days can challenge the best of sales professionals. Even wore than slowing markets is the
self-doubt and loss of confidence that can creep into your mind, sapping energy, conviction and effectiveness. One reason sales often come in batches is because nothing is better at boosting conviction, confidence and persuasion than closing a good deal. More...

Sellers' Value Will Determine the Motivations They Require
Denver Business Journal, July 2008
Many owners and managers experience frustrations when motivating their salespeople. Company leaders overwhelmingly believe that salespeople require only a good commission or pay plan, an occasional pat on the back and a little recognition. While this may be true for many, it's not true for all salespeople. More...

Replacing a Competitor Requires Research
Denver Business Journal, May 2008
A rising sea floats all ships is an accurate metaphor in growing markets. However, in mature, slow-growth or declining markets, growing sales requires taking business from competitors. Here are some do's and don'ts to start your strategy. More...

How to Avoid Being Stigmatized as You Go About Your Sales Job
Denver Business Journal, April 2008
The dictionary defines stigma as "a mark of disgrace or infamy; a stain or reproach, as one's reputation." Selling tends to carry a stigma around it, especially with many non-selling professionals such as financial providers, engineers, accountants, consultants, and other service providers. More...

Overcoming Adversity? Make Control Your Ally
Denver Business Journal, March 2008
For salespeople, adversity isn't a stranger and may seem a too-familiar companion to many.
Adversity is defined as circumstances severely interfering with a desired goal or accomplishment. Facing adversity with health issues forces people to exercise more, change behaviors, diets and lifestyles to avoid future problems. Successful selling also requires becoming bigger than the adversity, and it forces you to change. More...

How to Keep Selling, Near a Recession
Denver Business Journal, February 2008
Despite conflicting economists' views and indicators, the mainstream media seems unwavering in focusing on a possible recession. One has to wonder about the self-fulfilling prophecy concept. One economist wisely noted there's always a way to make money -- you just do it differently in good times versus slow times. More...

Be Clear When Explaining Your Consulting Services
Denver Business Journal, January 2008
If you sell consulting services, you may be part of the majority that agrees selling intangibles (or services) can be more difficult than selling tangible items.
There are three major challenges in selling services. More...

Accountability May Be Most Important Attribute
Denver Business Journal, December 2007
Are sales leaders born with selling instincts or do they learn the skills that make them successful? The answer is yes -- to both. More...

Be in Control of Your Time, Not the Other Way Around
Denver Business Journal, October 2007
People often say, "You should manage your time better". What makes us think we can manage time? Time is one thing we all share, and one thing none of us can influence.
More...

Prevent Problems in Account Management
Denver Business Journal, September 2007
The four major selling activities are prospecting, running a sales process (qualifying), closing, and account management. Prevent these problems in account management. More...

Build a Pay Plan to Motivate Employees
Denver Business Journal, August 2007
Is your sales compensation plan inspiring or lacking motivation. Sales compensation plans draw scrutiny from all levels within an organization. More...

To Boost Closings, Follow These Guidelines
Denver Business Journal, July 2007
Do you think your closing percentage should be higher? An Internet search on closing techniques or a review of the business shelf at the local bookstore reveals dozens of techniques and philosophies on closing. More...

Listen More, Talk Less, Sell More
Denver Business Journal. June 2007
Informed and caring salespeople want to fix problems and provide solutions. The immediate urge when confronted with prospect needs is to offer proof on how to fix the situation and attempt to close the sale. Listen more, talk less, sell more. More...

Sharpen Your Follow-up Calls
Denver Business Journal, May 2007
The client loves your killer presentation. Everything is positive, upbeat, and promising. Then the bomb drops and you hear, "This is just great. Let us talk this over and we will get back to you." Follow-up is a required skill in selling and is just as important as making initial calls. More...

Create Accountability in Your Sales Culture
Denver Business Journal, April 2007
How accountable are you and your sales team? Generally, because of our culture's desire for comfort, personal accountability gets lip service, and organizations are reluctant to hold anyone truly accountable. The current trend of flattening power structures and democratizing companies by driving decisions down to the lowest level also inhibits accountability. More...

Fading Stars
Denver Business Journal, March 2007
Why do so many sales stars slowly fade into mediocrity and become the worry of their managers? More...

Managers Can Change Sales Behavior
Denver Business Journal, February 2007
Have you ever found yourself hiring a sales professional because you think they bring all the sales skills to the table and you won't have to manage them? Most managers look for the ideal salesperson, one who doesn't require any direction, management or coaching. But how can you improve sales and competencies if you don't direct, manage or coach? More...

Resolve to be Uncomfortable, Break Out of Your Comfort Zone
Denver Business Journal, January 2007
Contented, happy, easy, secure, and relaxing are all alternatives the English Thesaurus offers for the word 'comfortable. We like being comfortable in our jobs. More...
Selling Requires Leadership, As Well As Courage
Denver Business Journal, January 2006
Great leaders and great sellers have many traits in common. Top sellers influence others, lead the sale process, persevere in the face of adversity and build a strong following.
Do great sales leaders work from instinct or from learned behavior? The answer is both,
because no one inherently has all the traits. Leaders continually work to give their personal
best and either delegate or develop their own strengths.. More...
Are Proposals Landing Business or Just Draining Resources?
Denver Business Journal, February 2006
This looks great! Give us some time to review this and we'll get back to you." How many times have you heard that? If you're like many business developers, you may hear it far too often. Writing and developing proposals can be one of the most costly and resource-consuming activities for salespeople and their organizations. More...
Managers, Reps Can Make the Most of Joint Calls
Denver Business Journal, March 2006
Has your boss ever said, "I'll be riding in the field with you next week; what time shall we
meet?" These words can evoke negative feelings in both sales representatives and managers. Because joint calls can be painful and time-consuming, many managers and representatives consider them nonproductive. But in reality, they can be a highly valuable asset for the salesperson, manager and company. More...
Don't Believe All the Old Sayings About Doing Your Job
Denver Business Journal, April 2006
Traditional wisdom isn't what it used to be. Here are five common sales beliefs that can hamper your sales. More...
Keeping Good Call Records a Necessity, Not a Useless Chore
Denver Business Journal, May 2006
When you ask salespeople what they dislike most, paperwork and call records are high on the
list of complaints. Many see record keeping as unnecessary, tedious, time-consuming and
nonproductive. However, call records can be one of the best and most valuable tools you have.. More...
Walk a Fine Line Between Tenacity, Being Annoying
Denver Business Journal, June 2006
Tenacity in sales is essential. Tenacious salespeople don't rely on luck for their success. Rather, they work toward a goal with determination, trying to make something happen. One of the biggest mistakes less successful business developers make is failure to follow up with potential customers and prospects.. More...
How to Avoid Stalls that Prospects Will Throw in Your Path
Denver Business Journal, July 2006
Salespeople hate to hear the dreaded sales "stall" -- meaning, the potential customer is
delaying making a buying decision. The message is a disappointment and can come over the phone, through e-mail, voice mail and even in a face-to-face conversation. More often than not, it's something like "we're putting this on the back burner" or "we've decided to move in a different direction." The old adage, "an ounce of prevention is worth a pound of cure" applies here. Stalls are easier to prevent than to correct. More...
Micromanagement: Is It Good or Bad for Staffers?
Denver Business Journal, August 2006
The motto of many managers and owners is, "I don't want to micromanage and I don't want to be a micromanager." The word "micromanagement" also sends chills down the spines of most salespeople. They see the freedom and independence characteristic of the sales profession as strong benefits, as are the financial rewards. More...
Using Email as Prospecting Tool: Do's and Don'ts
Denver Business Journal, September 2006
E-mail is becoming the preferred way to communicate, especially by people who are busy and
need to control interruptions. Using e-mail for prospecting isn't about promoting your offerings or selling. As with cold calling, e-mail prospecting is about building trust and starting relationships. More...
Every Sales Call Requires an Objective and Decision
Denver Business Journal, October 2006
An average sales call can cost you or your company $99 to $452, and Hoover's puts the average cost at $379. So it's important to maximize the return on your investment.
There are two principles to keep in mind... More...
Build Credibility If You Want To Influence Others
Denver Business Journal, November 2006
Influence and persuasion are impossible without credibility.
Selling is about helping others make decisions. Credibility really means being believable.
Credibility is the rational, logical and intellectual component that drives the intuitive feeling to
trust someone. Understanding how to build credibility when trying to influence someone will
increase the number of favorable decisions you receive. The specific steps to build credibility are... More...
Utilize Time, Organize Day to Be Most Productive
Denver Business Journal, December 2006
In selling, time is money -- and usually is in short supply. You can control the time trap by working smarter. Slowing down to speed up can be sage advice. So begin by keeping a log for a couple days of everything you do and the duration of each major activity.. More...
Four Step Planning Can Lead to More Sales Success
Denver Business Journal, January 2005
Kenneth Olsen, founder and president emeritus of Digital Equipment Corp. in Littleton, Mass.,
said, "A plan is the secret to freedom." Slowing down to plan seems impossible in a world of instant messaging, sales quota deadlines and pressure to sell more. Being lulled into the mind set of, "I have a whole year to meet my numbers, so I can make a plan later," is courting failure. More...
How to Make Your 'Elevator Talk' a Floor Above the Rest
Denver Business Journal, February 2005
First impressions in the high-pressure world of selling are becoming more important. Having
an effective "elevator talk" is essential in networking, engaging prospects and opening new
doors. First impressions are easily sabotaged with an elevator talk that's unimpressive because it's too long or too short. More...
Prepare Before Meeting Decision-Makers
Denver Business Journal, March 2005
As workdays lengthen and workloads increase, getting face time with decision-makers in larger companies requires planning and skill. They reasonably protect themselves from the time abuses of unskilled and uninformed salespeople. Prepare before meeting decisions makers by... More...
Customers Respond Better to Low-Pressure Method
Denver Business Journal, April 2005
Americans may be the most individualistic of any culture in the world and American buyers
love to make choices. Choice is empowering; taking choice away creates feelings of being
victimized. Think of a time when an event occurred that left you no choice. More...
Helping Salespeople to Climb Out of That Slump
Denver Business Journal, May 2005
Nothing is working. Those sure sales have gone away and the funnel is thinning. Worse, it seems impossible to get in front of new prospects because past approaches aren't working. The most used word in your prospect's vocabulary is "no." Does this sound familiar?. More...
To Boost Presentations, Follow Helpful Checklist
Denver Business Journal, June 2005
You give a powerful presentation, feel good about it, and even the buyer says it's a direct hit.
Then, expecting to move forward and finalize the sale, you are dumbfounded when you hear
the words, "Can you get back to us in a couple weeks?" You wonder why an excellent
presentation doesn't convert to an easy close.. More...
Some Ways to Become Memorable to Prospects
Denver Business Journal, July 2005
Estimates say we experience at least 200 advertisements in the workplace and more than
2,000 personally on a daily basis. Increasing competition is affecting everyone. Gaining attention in a noisy and cluttered marketplace gets harder every day and is more important than ever. Here are some ways to become memorable to prospects. More...
Use the Customer's Data to Prove Value Up-Front
Denver Business Journal, August 2005
You know your solution will help. Other clients in the same industry rave about it. Carefully targeting your prospects, you work for weeks to get in front of the decision-maker,
and successfully stimulate interest and clarify needs. You carefully construct the proposal or
presentation, and deliver it flawlessly. Everything seems like a perfect fit. Rapport is strong and you're the only vendor in the race. Shock sets in when you receive the prospect's decision not to buy. More...
Using Intuition Can Help You Close More Sales
Denver Business Journal, September 2005
Business educators describe buying and selling as an emotional process. Sellers try to appeal to buyer's emotions, and use enthusiasm to convey conviction and sell the sizzle. Feelings are natural, universal and very much human. However, the business world frequently perceives feelings in a negative context. In fact, letting feelings control our actions without intellectual intervention is a recipe for disaster. Using feelings and intuition to our advantage can actually foster success. More...
How to Convince Others to Help You Gain More Referrals
Denver Business Journal, October 2005
Ask yourself, "Do I have contacts that could refer me better than they do?" If the answer is "yes," then you're not realizing the full referral potential of your contacts.. More...
Jump Start Your Sales With Solid Planning
Denver Business Journal, November 2005
Retailers are accustomed to thinking seasons ahead, and often order fall and winter merchandise in the spring or summer months. Are you thinking that far ahead with your sales goals? More...
How to Maximize Your Returns From Trade Shows
Denver Business Journal, December 2005
Companies participate in trade shows every year to market their products and services, and to reach hard-to-see decision-makers. Trade shows can be expensive when considering all the costs for booth fees, travel, entertainment, lost productivity and promotional materials, so return on investment is important. More...
Avoid Using Technospeak Babble; It Can Cost You Sales
Denver Business Journal, January 2004
Technology is evolving so fast that salespeople face an over informing/under informing Catch- 22. On one hand, products have become so technologically complicated that the amount of
explanation needed to make customers thoroughly understand them may make their eyes glaze over long before the educational process is completed. But if the salesperson errs in the other direction -- trying to sell a product or service that the customer doesn't understand at all the sale won't be made at all. How do you sell a product when you don't know the prospect's level of understanding or decision-making criteria? More...
Sneakiness of Stealth Selling Turns Off Potential Customers
Denver Business Journal, February 2004
A recent "60 Minutes" report on stealth selling -- sending salespeople out disguised as
everyday product users to entice others into trying the products -- speaks to a growing and
troubling sales trend. More...
Poor Hiring Often Leads to Astronomical Turnover Costs
Denver Business Journal, March 2004
For every sales hire that leaves the company, prepare to spend one to five times that person's annual salary to find a suitable replacement. That covers just the hard costs involved in interviewing, training, managing and coaching a salesperson. It doesn't begin to cover the less tangible, but very real, costs related to lost opportunities, employee morale and customer dissatisfaction. Viewed this way, people in charge of hiring salespeople can't afford to make even one incorrect hire. More...
Problem Solving Mandatory to Achieve B2B Sales Success
Denver Business Journal, April 2004
When David fired his slingshot, he solved a big problem -- Goliath. Today's business-to-business sales forces also must be prepared to solve their customers' big problems. Salespeople able to uncover and solve customer problems on a continuing basis evolve into trusted advisers. Once in that valued, inner circle of trust, salespeople will find the sales process becomes almost automatic, as long as their problem-solving magic continues.. More...
Are Your Sales Meetings Wake-Up Calls or Sleep-Inducing?
Denver Business Journal, May 2004
You've got a long to-do list, proposal deadlines, a gut ache, a screaming need for another shot of caffeine -- and the sales meeting hasn't even started yet. These are not good signs, but are all-too-common ones in the typical sales meeting supposedly designed to motivate and create new business. Instead, they put many participants in the doldrums. While there's certainly a need to discuss company policy and new product information, routine sales meetings should focus on ways to freshen ideas and help people sell better.. More...
Your Sales Don't Have to Cool Off During the Summer
Denver Business Journal, June 2004
Sizzling temperatures often leave sales out in the cold. Summertime can mean slower sales, especially in Colorado, where everyone who isn't already on vacation is pining for the great outdoors. People are distracted and often short-staffed. In many companies, summertime rivals or even exceeds end-of-year doldrums. This seeming problem is also an opportunity. As a wise prophet once said, "Investment always precedes return.". More...
We Can Learn Sales Lessons from the 'Ghost Hunter': The Wolf
Denver Business Journal, July 2004
Wolves are a wonderful analogy for sales and sales management, and can provide many useful lessons. Reintroduction of wolves into some states evokes strong emotions on both sides of the issue, just as salespeople and the profession often do. Both are often misunderstood and labeled with undeserved reputations. Wolves are actually one of nature's best examples of individual excellence contributing to team strength, the very heart of sales success. More...
It's Real Nice to Be Liked, But Real Trust is What Wins the Sale
Denver Business Journal, August 2004
Former Israeli Prime Minister Golda Meir once said, "You can't shake hands with a closed fist."
A hearty handshake helps drive much business success, but by itself won't seal the deal.
This becomes glaringly apparent when your prospect greets you with open arms and a broad
smile, but your sales volume still ranks a distant second to a major competitor. Even more
daunting is being told they like you more than the competitor, and they acknowledge your
product gets the same results at the same price as the competitor. You're left shaking your head in disbelief. How could you lose the sale? More...
Even the Best Salespeople, Like Athletes, Require Coaching
Denver Business Journal, September 2004
Imagine a star athlete refusing to take coaching advice or performance feedback. What do you think would happen if that player no-showed at the team's review of game films?
Two likely consequences would be less-than-optimum performance and expulsion from the team. Top sales performers embrace coaching feedback and advice, knowing this will further strengthen selling skills. More...
Fast-track Training Accelerates Success
Denver Business Journal, October 2004
Corporate America's willingness to get back on a growth track after years of derailment is causing more owners and managers to add salespeople, and seasoned sellers to explore new opportunities. The time needed to train new hires sufficiently, however, is colliding head on with managers saddled with other duties. More...
Technology Can Be Valuable - If You Keep It Under Control
Denver Business Journal, November 2004
The headline trumpeted, "Frightened by a word -- technocracy." While this could easily refer to present-day technology experts trying to rule the roost, it actually appeared Feb. 19, 1933, in a Denver newspaper. Technology long has been viewed as a mixed blessing, and today is no different. Palm Pilots, iPods, laptops, contact managers and customer management software are legitimate assets of the sales process. More...