Sales training and management workshops and seminars led by Leadership Connections in Denver, Colorado focus on prospecting, opening doors, qualifying, and growing sales and people. Leadership Connections prospecting and referral workshops, along with sales training and sales management seminars, keep sales funnels full, eliminate excuses and create a culture of accountability. Leadership Connections' Sales Mastery® modules, workshops and seminars are available in Denver, CO (see calendar) or can be tailored and scheduled at your location to fit specific agendas and logistics.

Contact us for more information! 303.462.1277

Unless otherwise noted, the location of the sales training and sales management workshops: 700 Kalamath St., Denver, Colorado
---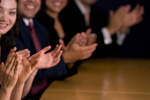 Powerful & Persuasive Presentation Skills
Contact us for dates in 2013
8:30 AM - 12:00 PM
In this market, every edge is important. Are you losing sales you deserve, not because of the offer, or the price, but because of your sales delivery?

Improve the success of your sales presentations!

In this workshop learn ways to:
-Captivate your listeners with impact
-Present yourself with poise and confidence
-Persuade people to act upon what you say
-Effectively use voice and body language
-Create positive personal presence
-Deliver with memorable impact
-Improve effectiveness with videotaping

Our trainer and presentation coach, Gwen Resick-Rennich, can give you the tools and techniques that will separate you from the ordinary sales presenter. By enlisting the aid of a professional presentation coach, you will rise to a new level of skill in a remarkably short period. If you're serious about "stretching" yourself as a presenter and increasing sales, this training is a giant step in the right direction. Watch a video of Gwen Resick-Rennich.
---
Hiring Top Sales Leaders
Upcoming in 2013 | 8:00 AM - 11:00 AM

Markets are changing. Necessary skills sets are changing.
Do you know the right mix of competencies you need?
How can you tell who is the right match for your situation?
In sales, surveys say the wrong hire occurs over 68% of the time, the cost in expense alone, without even considering lost business opportunities, is significant.

Three common hiring mistakes include: (1) superficial interviewing,
(2) hiring on experience only, and (3) not have a reliable hiring system.
Ready to get it right? Join us for this opportunity to hear the strategies, techniques, and legal aspects of getting the right people on the team.
Don't miss this valuable workshop for business owners, managers, and executives.
Register by phone or email! 303.462.1277
info@leadershipconnections.com
---
---
Selling Contract Furniture

To be effective in the strategic selling environment, top performing salespeople are valuable consultants and trusted advisors to their customers. Learn how to:

Actively prospect, work with gatekeepers and access decision makers
Stop chasing bids and opportunities that go nowhere
Stop price shopping and proactively sell on value
Earn trust and loyalty from prospects and clients more quickly
Eliminate surprises at the end of your cycle
Enjoy high sales volume, gross profit and income
After completing this course, participants will improve their performance with the use of proven and specific skills for the contract furniture industry. You will gain insights, acquire more confidence and professionalism, drive more revenues, and profit to the bottom line.

Additional Sales Mastery Training Programs Available by Special Request
Selling in the Age of Internet Comparison Shopping



Eliminate Chasing Prospect Stalls

A Culture of Accountability

Lead the Pack Selling: Are you Thriving or Just Surviving?

The Top Two Buyer Motivations

Presenting with Impact & Authenticity

Prospecting that Works - The Tools of Sales Leaders

Account Management: Block Competition and Grow Exisiting Accounts

Building Relationships with Those Who Have No Time

Principles of Organic Sales Growth

Get Face Time! Inspiring Decision Makers to See You!
Contact us by phone or email for more information! 303.462.1277 info@leadershipconnections.com
---
Sales Training Sales Mastery® 1 Modules

Please see our calendar for upcoming modules at our training facility or contact us to schedule training at a location convenient for you!

Sales Mastery® workshops are continually evolving to help you attain the strongest sales culture possible. Leadership Connections delivers sales and management seminars and workshops in measured increments allowing sales representatives to practice, apply, master, refine, and implement new selling skills and sales processes in the most effective way.

---
Sales Managers Leadership Workshops 9:00 AM - 12:00 PM

Vision, Goals & Values: Developing Your Cause:
The Soul of Leadership

Building High Performance Teams - Keys to Selecting Sales Leaders Part I

Building High Performance Teams - Keys to Selecting Sales Leaders Part II

Leading and Managing Diverse Behavior, Communication and Value Styles

Managing & Setting Expectations - Principles for High Performance

Establish Accountability and Eliminate Excuses

Performance Feedback: How and When to Give It, and Why It Is So Critical

Principles of Training and Coaching Salespeople

Field Coaching and Changing Behavior, Part I

Field Coaching and Changing Behavior, Part II

Sales Meetings that Inspire

Territory Planning